In Memorium
Shoji Nishio-Sensei
5 december 1927 – 15 mars 2005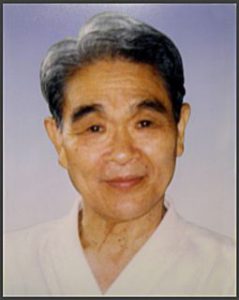 Låt oss hedra hans minne genom att fortsätta med hans Aikidoarbete.
Må The Nishio Aikido Family alltid hålla ihop.
(Denna sista paroll beror på att Nishio Aikidofamiljen är ganska splittrad just nu)
Tack Sensei för att du brydde dig om oss. Vi ska aldrig glömma dig.
Må du vila i frid.
Shoji Nishio-Sensei blev bara 77 år gammal, han dog den 15 mars 2005 kl. 9.50. Men han hann med att bli älskad av en hel värld.
Nishio-Sensei var en tränare med de tre krav som en tränare bör ha; tekniskt kunnande, förmågan att ta sig an en elevs förvirring och leda denne åter på rätt spår samt personlighet. Därför upplevdes Nishio-Sensei som en faders gestalt. Han var lätt att älska och se upp till. Han körde aldrig med falsk varudeklaration. Han visste vad han sade och vad han gjorde och han levde som han ville att vi skulle leva.
Han levde som han lärde.
Den respekt vi kände inför honom byggde inte på rädsla utan det var bara ren kärlek till den människa som hans enda mål var att leda oss in på rätt spår som fria människor, fria från oket, tvånget och bojan som andra mindre lyckade tränare satte på oss i början av vår Aikido väg.
Men, vad kommer det att hända nu med the Nishio Aikido family? Kommer vi, dina elever, att tillsammans följa den väg som du öppnade åt oss eller kommer vi att irra var för sig på avvägar som vi tror är de rätta?
Sakamoto-sensei har startat en Nishioorganisation, vet inte hur många föreningar som är anslutna men det verkar vara en stark organisation. Deras säte är i Kami Nakazato.
The Nishio Aikido family är redan splittrad.
Nishios hemsida är bortagen från nätet och ingen information har vi fått om hur det kommer att bli med denna familj.
Det verkar som herrarna Arisu-sensei och Tanaka-sensei, från Saitama området, har bildat en egen grupp och herrarna Umetsu-sensei, Kihara-sensei och Kuribayashi-sensei från Yokohama området har bildat en annan grupp.
Takemori-sensei vill vara sin egen.
likaså Yoshida-sensei som har startad sin egen Yufukan Japan där han kallar Nishio Aikido för Nishio Budo och Aikijutsu för Nishio Taido.
Saitamagruppen plus Takemori-sensei vill gärna ha Europa under sig. Yoshida-sensei har både Europa och USA som sina domäner och gruppen från Yokohama verkar hålla sig till Asien.
I fallet Takemori är det svårt att avgöra var han befinner sig.
Han säger att han har sin egen Aikido, men han undervisar mer än gärna Nishio Aikido.
Adapted from Kiev Aikido Kuroki:
The Japanese do not want me to write the text below on this website, but I must do it anyway.
In Japan there is a general rule that, after the death of a person, he or she is given a new name in the temple.
This new name is called KAIMYO.
合道院武誉昭岳優光居士
AI DO IN BU YO SHO GAKU YU KO KO JI
AI DO IN – These first three characters are called "INGO". IN – This name is given by his temple for ascetic practices as a disciple of AMIDA and Buddha. So, he became a chief priest at one Buddhist temple and started to practice ascetism to take care of us. We know that he mastered the profound principles of Aikido. This name has included our wish that he will be spiritually awakened to follow the teaching of Buddha in the Buddhisto's paradise (heaven) and devote himself to his studies of Buddhist enlightenment sincerely and earnestly.
BU YO – These next two characters are called "YOGO". This name is given to a person who has made a remarkable contribution to Martial Arts (BUDO).
SHO GAKU YU KO – These next four characters are generally called "KAIMYO". About SHO GAKU – the first character, SHO, originates from the name of Shoji. The next character, GAKU, means mountain. This indicates that he was a vital and pivotal person for the Nishio family. He was diligent and hardworking, studied Budo and was in good health. YU KO indicates that he had many aikido students throughout the world. He was a kind and extremely virtuous man. He was also an outstanding master of Aikido. We pray that his soul may rest in peace under the peaceful light of AMIDA, and we also pray that he becomes a Buddha, watching over the Nishio family, as well as it relatives, friends and those who study Aikido in order to live in good health.
The following title (KO JI) will be given to the man after his death.